Naked 200 MPH Club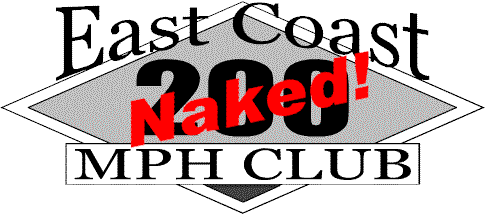 A small, more elite group of the 200 MPH Club exists within the ECTA 200 MPH Club.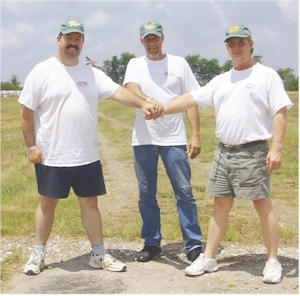 Pictured, L to R, are the three Charter Members, Todd Brooks, Todd Dross, and Scott Guthrie. 
Only a few motorcycle riders have ever run 200 MPH or over with no streamlining forward of the rider,
(no fairing), i.e. "Naked." This accomplishment does not come easy!
Congratulations to the following members of the "Naked 200 Club.":
| | | | |
| --- | --- | --- | --- |
| # | Rider Name | Entry Speed | Date |
| 1. | Scott Guthrie | 200.000 MPH | 06/01 |
| 2. | Todd Brooks | 203.619 MPH | 04/02 |
| 3. | Todd Dross | 202.433 MPH | 05/02 |
| 4. | Wayne Pollack | 219.458 MPH | 06/05 |
| 5. | Walt Kudron | 204.591 MPH | 09/06 |
| 6. | Bill Warner | 200.062 MPH | 03/07 |
| 7. | Jody Leveille | 204.703 MPH | 05/07 |
| 8. | Trillium Muir | 207.756 MPH | 06/07 |
| 9. | Josh Owen | 200.552 MPH | 09/07 |
| 10. | Steve Knecum | 200.673 MPH | 10/07 |
| 11. | Dean Sabatinelli | 200.391 MPH | 05/08 |
| 12. | Debbie Dross | 202.351 MPH | 05/08 |
| 13. | Phillip C Campbell | 209.458 MPH | 05/08 |
| 14. | Scott Horner | 220.480 MPH | 06/08 |
| 15. | Mark DeLuca | 206.881 MPH | 10/08 |
| 16. | Ali Abubakr | 203.438 MPH | 06/09 |
| 17. | Tom Schaefer | 206.391 MPH | 10/09 |
| 18. | Roy Brooks | 201.099 MPH | 09/10 |